December 16, 2006
---
---
Happy Holidays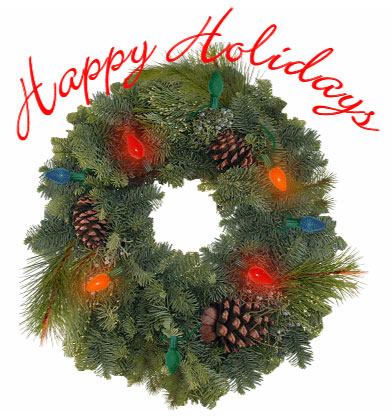 Before you get caught up in the holiday fun, please remember to save your work for the show! the party!
---
Wanna Get Out of Here?
So they dug up the lot and you didn't get parking. And, those long hours in the Commlab are getting you down. And, although you should be doing your holiday shopping, you're stuck in your dorm room with the Simmons viral epidemic…Wanna get away?
Then the real question is, parlez-vous francais? Junior Sheila Sheedy is brushing up on her French for the spring semester and taking a little detour on her way to the Fenway. Her destination: Paris, France. There she will temporarily supplant the time she would have spent as a dedicated Communications student and PRSSA Co-President with French Cinematography and French Literature classes.
"I hope I come back with more to add to my portfolio," Sheedy said. But this experience, she explains, is not just a resume booster; it is also the opportunity to gain a better perspective on our global environment and lead to new ideas on how to approach the communications field.
In Paris, Sheedy will study at a college called Paris III through an intercollegiate agreement with Sweet Briar College in Virginia. The week before classes begin, she will enroll in four classes, which will be taught exclusively in French. As far as Sheedy's ability to switch her primary language goes, it's mind over matter, she said.
"That's causing me some stress and anxiety, I guess," Sheedy said. "The good news is receptively, I'm fluent." But Sheedy will not survive on her listening skills alone. She is depending on her sociable personality to drive her to perfect her ability to chat with the other students.
Simmons students participate in a wide variety of programs in countries all over the globe, including Argentina, Australia, Chile, China, France, Ghana, Ireland, Italy, Japan, Jordan, Mexico, Poland, Senegal, Spain, Turkey, and the United Kingdom, according to the Simmons College Study Abroad Website.
"I think a lot of times the things we learn in the classroom are U.S. specific," Sheedy said. Learning through programs like these, according to Sheedy, is necessary to understand the world.
So my message is: get the heck out of here and influence and learn from the rest of the world — you're familiar with that wide-open space beyond the confines of the Commlab (no, I'm not referring to the parking lot). And if you're like Sheedy, we'll miss your kind words and welcoming smile (and maybe even feature you in The Communicator). Sheedy "brings a lot of sparkle into day-to-day life," according to Internship Director, Sarah Burrows, which will communicate well as she represents Simmons while in Paris.
If you would like to represent Simmons in the global community, please check out the Simmons College Study Abroad Website
---
End of Semester Lab Hours
Monday, Dec. 18: 10-5
Tuesday, Dec. 19: 10-5
Wednesday, Dec. 20: 10-5
Thursday, Dec. 21 10-5
During the week of December 18, there will be no Lab Monitors on duty. Please use this time to back up all of you coursework for the semester.
---
Before You Leave for the Semester…
Back up all of your Communications coursework!
All files on Vol1, Vol2, Vol3 and BigFileVault not removed by 2:00pm on Thursday, December 21 will be deleted.
If you have questions about how to back up your coursework, email commlab@simmons.edu
---
Featured Internship
Tiziani Whitmyre, Inc.
Public Relations Internship Opportunities
Tiziani Whitmyre, Inc. announces the availability of for-credit and paid Public Relations Internships for Spring 2007.
Tiziani Whitmyre is a marketing communications and public relations firm focused on the needs of growing companies. Agency clients include leading names in the life sciences, high technology, biotechnology, manufacturing and professional services
Tiziani Whitmyre is located midway between Boston, Mass. and Providence, RI, at 2 Commercial Street, Sharon, Mass. We are just off Route 1 and Interstate I-95.
At Tiziani Whitmyre, interns are introduced to the various "real world" facets of agency work to learn the strategies and skills they'll be expected to master to succeed at an agency or in a corporate PR department.
Interns will hone their tactical public relations skills and learn the requirements and nuances of agency account service. In addition, Interns have the opportunity to take an "inside look" within a variety of markets and industries.
At Tiziani Whitmyre, interns:
Join account teams in servicing clients
Delve into and across the application of several client programs of various size, scope, and industry
Experience the in's and out's of agency culture and operations, client service, the creative process, and media relations.
In essence, Tiziani Whitmure Intern responsibilities mirror the requirements of a Public Relations Account Coordinator — the entry-level professional position for most public relations agencies.
Opportunities are available year-round for career-oriented, college and university students. Requirements and hours are flexible.
To respond, send a cover letter and resume to admin@tizinc.com, and include "Internship" in the subject line. No phone calls, please.
---
| 12.16.06 | Issue # 3.5 |
Call for Submissions
Do you have information that you would like listed in The Communicator? Have you been published? Are you receiving an award? Please submit your information and achievements to the Communicator.
The Communicator is a biweekly newsletter published by the Simmons College Department of Communications. This publication is edited by Deirdre Yee.