November 7, 2007
---
---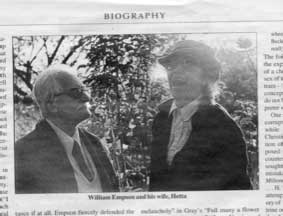 Photo by Judith Aronson from the October 26, 2007 edition of The Times Literary Supplement.
---
Registration
Spring undergraduate registration kicked off November 6 and the final students, based on priority, are eligible to register today. If you have not already, log in to AARC to register for spring classes.
| | |
| --- | --- |
| CommMedia | 120-01 |
| Writing Across the Media | 122-03 |
| CommTech | 123-03 |
---
Veteran's Day Weekend Lab Hours
Friday:
9am-4pm (Regular Hours)
Saturday:
CLOSED
Sunday:
12pm-9:30pm (Regular Hours)
Monday:
2pm-9:30pm
---
Featured Alumna — Marcia Emerson
Marcia Emerson is a graduate of the class of 2003.
What field(s) are you currently working in and what is your title?
"I work in healthcare communications and my title is Intranet Editor."
What steps did you take toward obtaining your job? And, how long have you been working in this field?
"The steps I took to finding this job was first by going back to Simmons' Communications department to see if Jim Corcoran or any other professors new of openings in the healthcare field. As it turned out, Jim did know of an opening in the Communications department at Dana-Farber Cancer Institute, and the woman who left the position is a Simmons alumna who I knew! I have been working in this field for two years."
Tell us a little about your work.
"I am the editor of the internal Website (intranet) at Dana-Farber. This entails me writing and editing for the site, as well as other internal publications. I choose the news stories that are featured on the homepage and work with various departments throughout the Institute to get their content online. I offer support to those employees who have the ability to make changes on the intranet and serve as the project manager on new technology that we roll out.
"I also co-run the Communications department's weekly news meetings with the internal communications manager."
What is the most valuable lesson becoming a professional has taught you?
"In the communications field, you are constantly working with others, and quickly learn how important team work is. You also learn that not everyone has the same approach to a task that you do, so learning how to integrate your personality/work ethic with others is a valuable lesson learned/skill that you will use for the rest of your professional career."
How has your job challenged you professionally? What was your response?
"Working on the Web opens a whole new world into online communication, and it is often difficult to keep up with new trends and technology. In order to stay on top of my field, I devote two hours per workweek to investigating trends/technology online. An example of what I investigate is blogs. We recently rolled them out internally, and I continually seek information on how to make them effective for all employees."
What advice do you have for soon-to-be Communications graduates who are looking for employment?
"Start your job search early and look at positions beyond what you think of as traditional communications. Make sure your writing skills are top notch, as they are an incredibly valuable asset, not matter what job you take."
---
Bookbuilders Scholarship is $7,600
About the award
The Bookbuilders of Boston Scholarship is awarded to undergraduate and/or graduate students enrolled at Simmons College who have demonstrated a strong interest in pursuing a career in the publishing industry or in a related field and are likely to make a contribution to the community of publishing. The total scholarship fund this year is $7,600. This total amount may be divided among as many worthy candidates as are determined by the selection committee. The selection committee may choose to delay distribution of funds if no suitable candidate applies.
Eligibility
Any Simmons undergraduate who has earned 64 credits or graduate student who has earned 16 credits is eligible to apply. Previous recipients may not apply.
Applicants should submit the following items:
A copy of transcripts representing post-secondary studies.
A resume emphasizing experience relevant to the publishing industry.
A 250-word essay explaining professional plans and goals.
A letter of recommendation from a Simmons faculty member or program administrator.
Submit Your Application to:
James Corcoran and/or Kerrin Dowling L-302, Simmons Selection Committee, C/O Communications Department
Application Deadline: December 12, 2007.
Recipient(s) of the Bookbuilders Scholarship are encouraged to use the Bookbuilders organization and members as a resource for information and personal contacts in book publishing.
---
Free Classes at the PTRC
Sign up for technology training at the PTRC: http://ptrc.simmons.edu/. This is a resource for faculty, staff, and students.
November classes include Powerpoint, iMovie, and HTML.
---
Featured Student
Diana Salvatore was a panelist at the Intercollegiate Broadcasting System (IBS) Regional Conference Oct. 20. Salvatore joined James Stewart, Executive Producer at WEEI, to talk about Sports Radio. Salvatore is currently an intern for WEEI Radio Entercom New England.
Witches' Brew Senior Class Halloween Celebration at Church Oct 26.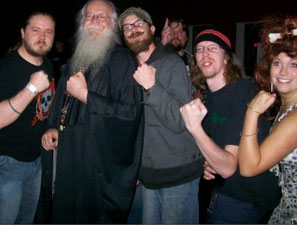 …and assorted band members and senior class President Laura Nelson.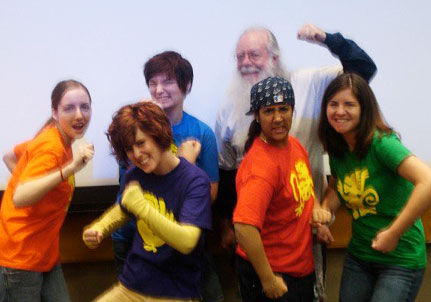 ---
| 11.09.07 | Issue #5.4 |
Call for Submissions
Do you have information that you would like listed in The Communicator? Have you been published? Are you receiving an award? Please submit your information and achievements to the Communicator.
The Communicator is a biweekly newsletter published by the Simmons College Department of Communications. This publication is edited by Deirdre Yee.