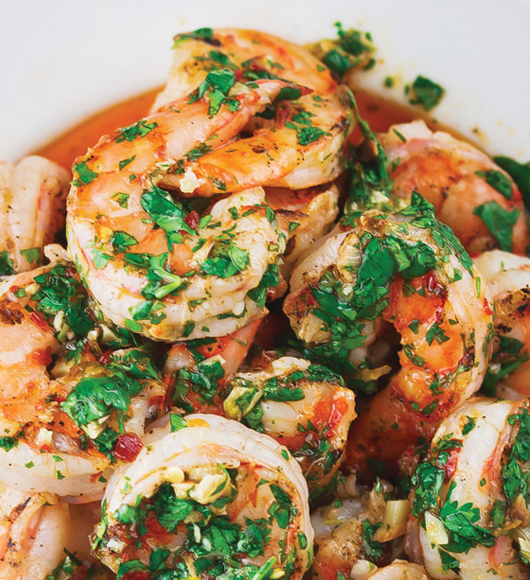 Grilled Shrimp with Garlic Cilantro Sauce
Adapted from The Mediterranean Dish
I have this recipe saved to my food board on Pinterest. Instead of traditional cocktail sauce, this recipe calls for roasted garlic ciltanro sauce. If you are not a fan of cilantro, you can add something like dill or parsley, instead (according to the website this recipe was adapted from). You can eat this tapas style or as a dinner with grains and vegetables. Serves 4.
Cooking Instruction
1. Preheat oven to 400°F
2. Peel and devein the prawns (If you would like to learn how to do this, click here. Pat dry and season with salt and pepper. Place prawns in fridge until ready to grill.
3. Trim top of garlic head and drizzle generously with olive oil.
4. Roast garlic in oven for 10-15 minutes until slightly tender. Remove from oven and let cool, then chop garlic as finely as possible.
5. To prepare cilantro sauce, combine roasted garlic with cilantro, lime juice, white wine, olive oil, and chili sauce. Whisk together.
6. To cook shrimp, oil and heat a cast iron grill or griddle to medium high. Oil and grill prawns for 6-8 minutes total, flipping halfway through.
7. Remove prawns from grill and coat with roasted garlic cilantro sauce. Alternatively you can add sauce on the side. Enjoy!
Ingredients
For Shrimp
&frac12 ld uncooked prawns
Salt and pepper
Olive Oil
For Garlic Sauce
1 small head of garlic
1 cup fresh cilantro leaves
Juice of 1 lime
1 tablespoon dry white wine
3 tablespoon olive oil
2 tablespoon chili sauce (or 1 tablespoon dry chili flakes)