---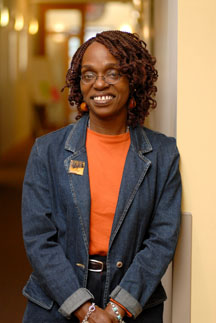 Johnnie Hamilton-Mason
Professor
Simmons College School of Social Work
300 The Fenway, Boston, MA 02115
Office: Room: P-414H
Phone: 617/521-3911; FAX: 617/521-3980
Email: hamilton@simmons.edu

Academic Degrees:
B.A.: Boston State College
M.S.W.: Simmons College, School of Social Work
Ph.D.: Smith College, School for Social Work
Course(s):
409: Dynamics of Racism and Oppression
411: Human Behavior in the Social Environment
424: Advanced Clinical Practice
484: Clinical Practice in Low Income Communities
545: Political Action & Strategies for Professional Social Workers
557: Clinical Practice with Immigrants and Refugees
654: Qualitative Research Methods

Personal Statement:
Dr. Johnnie Hamilton-Mason teaches Advanced Clinical Practice, HBSE, Leadership, Political Strategies for Clinical Social Workers Practice with Immigrants and Refugees, and Qualitative Research. In 2005 she co-founded the SSW's Pharnal Longus Academy for Undoing Racism. From 2001 through 2008, she served as a Harvard University W.E.B. DuBois Institute non-resident fellow in African American research. Her scholarship and research interests are primarily on African American Women and Families, the intersection of cross cultural theory and practice, and HIV/AIDS prevention and treatment. Since 2007 she has served as a Researcher at the University of Texas's Hurricane Katrina Researcher Collaborative. She has recent publications on "Psychoanalytic Theory: Responding to the Assessment Needs of People of Color?", "Using the Color of Fear as a Racial Identity Catalyst", "When the Floods of Compassion are not Enough: A Nation's and a City's Response to the Evacuees of Hurricane Katrina" and "children and Urban Poverty." With over twenty-one years of full-time teaching experience, she continues to enhance her teaching through clinical practice in urban agencies, as well as through consultation and education locally and internationally.
Dr. Hamilton-Mason presents papers regularly at national and international conferences on such topics as the dynamics of diversity; teaching and learning issues related to diversity; HIV/AIDS prevention and treatment in the United States and Africa; urban practice and urban leadership educational outcomes; cross cultural competency and racial identity theory in clinical work. In 1996, Dr. Hamilton-Mason was appointed as Co-Chair of the HIV/AIDS Task force for the National Association of Black Social Workers and currently serves as the Co-Chair of their Education Committee. Dr. Hamilton-Mason has also served for NASW as a delegate and is currently on the editorial board for Health and Social Work. She is currently is a Board of Trustees member for the AIDS Action Center in Boston and the Heritage Guild.
Recent Publication
Cornelius, L. J. & Hamilton-Mason, J. (Nov. 2009). Enduring issues of HIV/AIDS for people of color: What is the roadmap ahead? Health and Social Work, 34(4), 243-246.
Hamilton-Mason, J., Hall, C., & Everett, J. (2009). And some of us are braver: Stress and coping among African American women. Journal of Human Behavior in the Social Environment, 19(5), 463-482.
Recent Presentation
Hamilton-Mason, J. "Black Women Discuss How They Cope with Racism in the Workplace" (title of an article under review), Society for Social Work Research Meeting, Tampa, Fl, January 12, 2011.
Hamilton-Mason, J. "And Some of Us are Braver: Black Women Managing Stress and Coping." Social Work Grand Rounds series at Beth Israel Deaconess Medeical Center, Boston, MA, November 5, 2010.
Hamilton-Mason, J. & Everett, J. "Understanding the Significance of Sexism and Racism in the Lives of Black Women." Simmons College. Black History Month Event. Boston, MA. February 17, 2010.
Hamilton-Mason, J. "Understanding the Significance of Racism and Sexism in the Lives of Black Women". ORAL PAPER. 2010 Annual Conference of the Society for Social Work and Research, San Francisco, CA. January 17, 2010