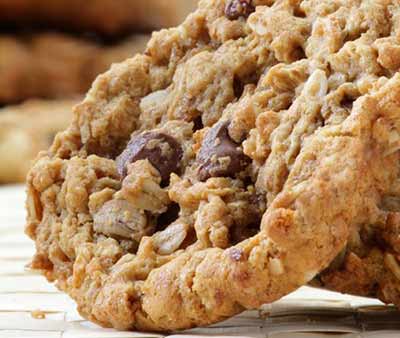 Oatmeal Chocolate Chip Cookies
Submitted by Danny Boucher
This oatmeal Chocolate Chip Cookie recipe will remind you of rainy days at grandma's house. It is vegetarian friendly. It is not vegan friendly or gluten free.
Credit to Mikayla Mitchell for recipes.
Ingredients
1 cup shortening
3/4 cup brown sugar
1/2 cup white sugar
2 eggs
1 tsp. vanilla
1 tsp. salt
1 tsp. baking soda, dissolved
1 1/2 cup flour
2 cups oats
chocolate chips
Instructions
Cream shortening and sugars with mixer.
Add vanilla, salt, and eggs, one at a time with mixer.
Dissolve soda into a quarter cup of water and blend in with mixer. Add flour, oats, and chips and stir with wooden spoon.
Place 1 tablespoon of dough 1 inch away from
Bake at 325 degrees for 10-12 minutes.